Sacred Lands and Waters
Accompany the Indigenous custodians of sacred lands and waters to protect the beating hearts of healthy, biodiverse ecosystems all around our living planet. 
From mountains to rivers, forest groves to coral reefs, springs to wetlands, sacred natural sites are places of cultural, ecological and spiritual significance; and they hold the key to climate change resilience, flourishing biodiversity and for re-imagining conservation.
Protecting Indigenous sacred natural sites and the rights of custodians, through policy making, inter-generational learning, wilderness experience and habitat restoration, has always been important for us. We recognise that sacred lands and waters are critical for maintaining the health of the Earth, upon which the health of all communities depend.
The whole Earth is sacred. Within the body of our Earth there are places which are especially sensitive, because of the special role they play in ecosystems. We call these places sacred natural sites. Each sacred natural site plays a different but important role, like the organs in our body. All of life is infused with spirit. (African Community Custodians Statement, 2012)
Indigenous custodians of sacred lands and waters are our best guides for navigating the failures of environmental governance. From the Amazon rainforest to Ethiopian highlands, Gaia has been working with partners and custodians of sacred natural sites to revive the rituals, customary laws and governance systems, and to restore confidence in that which has traditionally woven the community and ecosystem together.
Sacred Natural Sites and community governing systems bring to the fore the true meaning of a sustainable relationship with Earth. Wisdom shows that the impacts of an immoral behaviour with Earth does not spare communities and their cultures. (Nnimmo Bassey, Director, Health of Mother Earth Foundation).
Back in the late 1980s Gaia accompanied local partners and Indigenous communities in Colombia to establish the award-winning COAMA (Consolidation of the Colombian Amazon) Programme – a remarkable and collaborative initiative for biocultural diversity, Indigenous rights, regenerative livelihoods and forest protection. Indigenous shamans were emphatic about prioritising the protection of sacred natural site networks, and we took African civil society leaders to learn from the COAMA experience – the spark for deep, elder-centred work in East, West and Southern Africa.
Gatherings of traditional custodians of African sacred natural site networks from seven countries led to a landmark "Call for the Legal Recognition of Sacred Natural Sites and Territories, and their Customary Governance Systems" and Resolution 372 by the African Commission on Human and Peoples' Rights (ACHPR). We continue to push for recognition at regional and international levels of the importance of Indigenous sacred natural sites and territories as 'no-go' areas, and the rights of custodian communities.
You can find out more about the practical ways in which we work to safeguard sacred lands and waters, by exploring the links, materials and films below.
Related news
21st March 2023
At Gaia we always enjoy taking a deep dive, and this month we've been fully immersed in the sea. A wave of international commitments At the annual Our Ocean conference… Read More
10th January 2023
Appolinaire OUSSOU LIO is working with communities to restore the sacred forest groves that once rooted people to place. Marking today's annual celebration of Vodun (Voodoo) culture in Benin, we… Read More
Brought to life through film
Useful reports & publications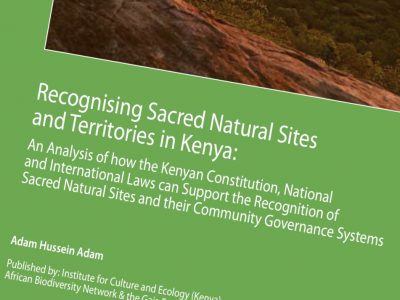 18th November 2015
Our 2012 report, produced with the African Biodiversity Network and the Institute for Culture & Ecology, provides analysis of Kenya's legal and policy framework, and recommendations for securing greater recognition of the country's sacred… Read More
28th September 2015
This Report exposes the existing and likely impacts of mining and extractive activities, with a focus on the districts of Hoima and Buliisa in Bunyoro, Uganda. Building on the earlier… Read More
Support us with a donation
We live in a time of multiple, complex crises. There are no easy answers. Working to uphold the health and diversity of our living planet is always rewarding, but we think you'll agree it can sometimes feel like swimming against the stream. And yet like salmon we leap, and more often than you might expect, we make it. We invite you to make the next leap with us by making a donation of any size. Thank you for your solidarity.
Donate Today